Panna Cotta salty cheese and tomato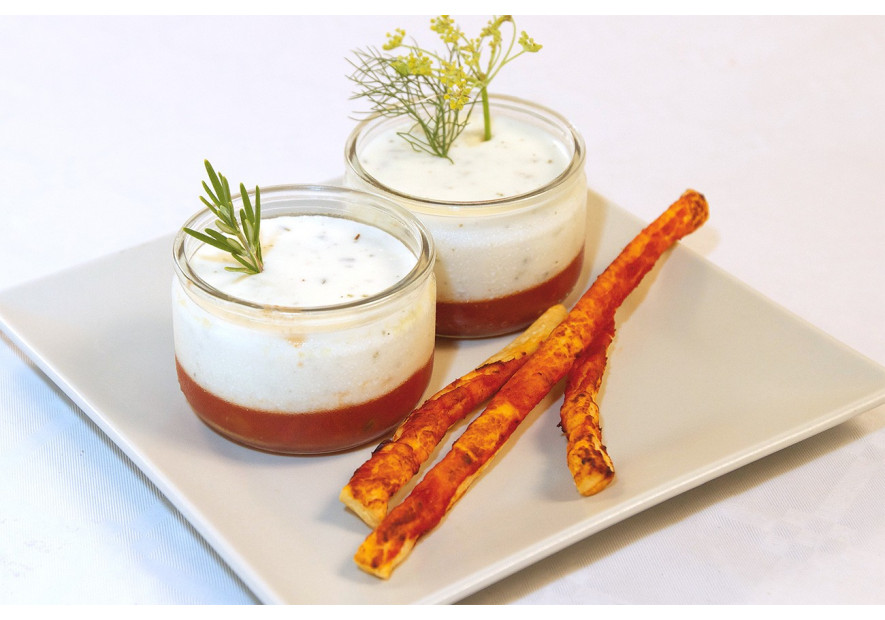 Servings: 6 people

Preparation time: 15 minutes

Cooking time: 3 minutes

Ingredients:

• 2 bricks of cream 25cl 8% fat,
• 2 sheets of gelatin or agar-agar 1cc,
• 25g of bleu d'Auvergne,
• herbs de Provence,
• 400g tomato supreme,
• 1 teaspoon of olive oil Picholine.

Decoration: sprigs of dill or fresh rosemary.


Preparation: mix tomato Supreme 400g with a gelatin sheet you have previously soaked in cold water to soften it. Spread a little of your preparation in each glass and put at the bottom of your refrigerator, until gelatin hardens a bit. Meanwhile, heat the cream (without boiling) and add the cheese into small pieces and a pinch of herbs of Provence, salt and pepper.
Let cool slightly.
Take out the glasses and carefully pour the milk mixture. Tomato Supreme should not mix with your final preparation. Your glasses are ready, put them in the fridge and eat the next day.
Before serving, sprinkle a few drops of olive oil Picholine variety in your panna cotta for a "pearl" effect.
Decorate with a branch of dill or rosemary fresh in each glass.

Plus: as an accompaniment, you can make puff pastry sticks crispy you baste beforehand with the tomato supreme before bake (see photo). You can also replace the tomato supreme with Provencal tomato sauce.

Our products: tomato supreme, olive oil Picholine variety.
Price
€86.00
Olive oil Picholine is a blazing oil at the back of the throat...